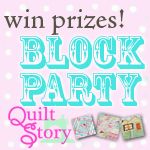 For the block party I decided to enter two blocks I've finished this last week.
The first one is a more traditional style with traditional fabrics so that's the category I choose for it. But still it has a bit of wonky too it and the border is mismatched. I love the wonky star pattern and decided to make a block for a pillow for my bed.
And closer. It measures about 16" X 16".

For the second entry, I did a creative block. It's a bit more than I usually do but I like the way it turned out. It measures about 17" X 17".
The sun and tree ideas came from
Stitched in Color
blog. The mushroom is pretty cute and I added a brown strip below it to resemble a patch of dirt for a flower bed.
It kind of seems simple here unfinished and unquilted, so I did a bit of drawing on it in Photoshop with sketches of planned quilting and red flowered border I'll use. The word Home Sweet Home will be printed on a fabric piece of linen and sewn onto the border.
Completed Home Sweet Home Mini Quilt
HERE