I originally started this quilt for Valentines Day
last year
. But I did mention that it wouldn't be completed for last V-day but for this
2011 Valentines day
. I was right, it's done for 2011, and now I get to enter it into the love nest bed sized quilts over at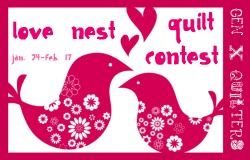 It fits a twin size bed perfectly.
It took me a year to complete from start to finish. I did all the round piecing in tiny increments. After I had all the round parts cut out I would sit down for a few free minutes here and there to sew up one or two. The whole top was completed within a month.
This was a new way to do circles for me as I did them before with another
method
. I really like this way a lot and will have to try a few other color schemes with this block and different sizes. I did realize that you need to sew with a smaller stitch length than normal around those curves. The round seems have lots of stress on them after they are ironed so much.
I did a larger round about quilting design on this quilt.
The back of the quilt has two circles at the top and the pink plaid is pieced to match up all the lines. It was also a new method of piecing patterns I tried that I love and have used so many other times since then.
I was inspired by seeing the round quilt design on
Love Nest Bed Size Quilt contest
.