I discovered that my sewing machine has a walking foot the other day.
Most importantly
, I discovered I can do free motion quilting on my machine even though the feed dogs are not able to be lowered.
It made my day.
Looking through some stuff in my machine compartment I never use, I picked up a thin metal plate and thought what is this used for? It lays flat on top of the needle plate. It's called a darning plate.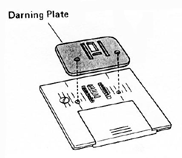 AhhHA!!
I realized it was to prevent the feed dogs from touching the fabric...So free motion quilting can be allowed. Right away I looked on the computer and ordered this foot to free motion with.
While I was browsing, I also realized I can get a walking foot for just under $20.
I now have two new feet for my sewing machine and am happy to report they both work perfectly.