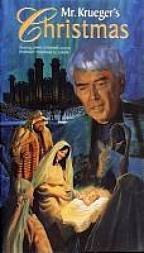 There is not a year that goes by
that I do not watch this video,
Mr. Krueger's Christmas
.
It's a short 30 minute movie
starring Jimmy Stewart as
"a humble janitor whose goodness
and vivid imagination lead
to the fulfillment of his
grandest dreams".
I love it and Big E loves it
and we watch it almost
every day in December
(sometimes twice or more-haahaa).